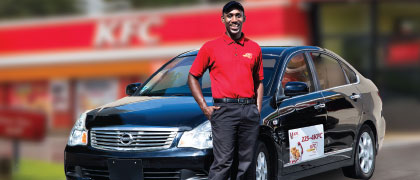 Driver Wanted!
Guaranteed Minimum
You Should Possess:

A CLASS 1 MOTOR CYCLEPERMIT (MANUAL ONLY)

POLICE CERTIFICATE OF CHARACTER (OPTIONAL)

CLASS 3 DRIVER'S PERMIT

GOOD CUSTOMER SERVICE SKILLS
Benefits Include:
FULLTIME, PART TIME, ALL WELCOMED
GREAT PAY RATES
FREE UNIFORMS
FREE MEALS
Our website is designed to work in portrait mode.
Kindly rotate your device.